Water Conservation Tracking Through September 30, 2016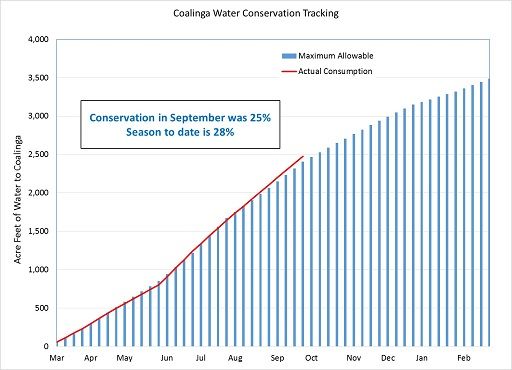 Welcome to Coalinga!
Coalinga is a full service community with a high quality of life, low crime rates, and quality housing. Coalinga also has quality schools, a library, a museum, and many recreational facilities. Key community events include the Annual Horned Toad Derby, Annual 4th of July Fireworks Display, and Wham-O-Bass Hot Air Balloon Festival. Coalinga also serves as the regional retail center of western Fresno County with a K-Mart, Rite-Aid, Walgreens, and two major grocery stores.
Coalinga is the home of West Hills College. West Hills College (with satellite campuses at Firebaugh and Lemoore) continues to experience significant growth, providing college level course-work in a variety of disciplines. Enrollment at West Hills College has increased from 2,715 students in the fall of 1994, to 3,886 students in the fall of 1999. West Hills College is also working with Fresno State University to develop cooperative programs which would allow West Hills Students to take courses offered by Fresno State. West Hills fields teams in all major sports, and an intercollegiate rodeo team which competes nationally.
City Hall Closed Friday's Effective June 29, 2015 – Extending Hours Monday-Thursday
As part of the 2015/2016 Budget City Hall will be closed on Friday's and will be extending its hours it is available to the public from 7:30AM – 5:30PM Monday through Thursday. This change goes into effect on June 29, 2015. Should you have any questions regarding this change please contact City Hall at 559-935-1533.
Water Crisis 2015
Stage 2 – Key Water Conservation Measures
The following water conservation measures are needed to make the most of our watersupply, which has been reduced by 28% below 2013 levels because of the drought. More than 70% of our annual water use takes place outside the home.
The measures below will help us makethe most of our precious water supply this year
1. No water hose washing of sidewalks, walkways, driveways, parking areas, patios, porches or verandas.
2. Watering of lawns and gardens are restricted to the following schedule:
a. No outdoor watering on Sunday, Monday and Thursday.
b. No outdoor watering between 9:00 a.m. and 6:00 p.m Sunday - Saturday.
c. Even addresses outdoor watering is allowed on Tuesday and Friday.
d. Odd addresses and non-residential customers (irrespective of addressoutdoor watering is allowed on Wednesday and Saturday.
3. Emptying your swimming pool requires permission and will only be granted one time during a 24-month period.
4. The use of a water hose for outdoor watering with a shut-off valve shall be permitted at any time.
5. Failure to follow these measures and the other measures in the City's Water Conservation Ordinance will lead to an initial warning and then monetary fine and up to shutting off your water service.
PLEASE Make Every Drop Count!
ADA Complaint Form
PDF Files: